I recently had to replace much of my wardrobe. While we constantly make sure the children have clothing that fits, looks nice and meets their needs, my husband and I 'make do' with t-shirts we had since high school, and hand me downs from friends and family most of the time. But when I started noticing that many of my clothing items had holes, bleach stains, or didn't fit well at all, I realized I had to actually look to my own needs and get myself some decent clothing.
My goals were simple. I wanted my clothing to be affordable, feminine, and practical for everyday wear.
While hunting for clothing for my littles, I was turned on to 'bulk clothing' sites. I was extremely happy with the quality and the prices for a dozen t-shirts for my child. So I checked to see what they might have for me.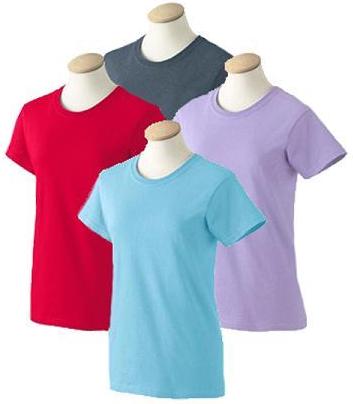 These are from
www.theadairgroup.com
. I was able to get a dozen black fitted tshirts for about $2.00 each. I chose black because I could wear them with anything. They were incredibly high quality. I really recommend this company. They do NOT sell crap.
I had debated skirts vs jeans. I look back and remember my senior year in high school, when I wore a dress or a skirt every single day. And I did fantastic braids and designs in my long brown hair. It may seem silly. But I felt beautiful. I felt comfortable. I felt like a princess. Since then, however, I took less interest in my appearance. Each day found me in jeans, any old shirt, and a ponytail. I now felt like I was 'waiting' to be a princess. What was holding me back? What was I waiting for? Life is passing us by and if we are not living it to the fullest, we are missing it.
This may seem to put too much stress on appearance. But for me, it wasn't appearance. It was my heart. I was NOT living the way I wanted. I had compromised with 'normal'. I regretted it.
So I determined that I would get skirts or dresses. I know that I could sew my own. But I also realized that my sewing was.... not the greatest, and I didn't get to it very frequently. And I needed the clothing soon. So I searched the internet far and wide to find a good price for a variety of lovely skirts.
I found
bombayfashions on amazon
. They had solid color skirts and sequened tie dye skirts and much more.
When I purchased these skirts they were about $22.00 each. For me and my frugal heart, that seemed high. But after ALOT of searching I could not find a better price. And this allowed me to buy a new wardrobe for $100-200, depending on how many skirts I chose to purchase.
To finish off my clothing needs, I am debating on which shoes to get. I currently have an old pair of work boots my husband tossed my way, a pair of very worn tennis shoes, and a pair of flip flops. While I do NOT desire the 50+ pairs of shoes I had in high school, I realize that a pair or two of good nice looking shoes would be a nice addition to my closet here. I haven't found what I am looking for yet. Still thinking on that.
I realize that this style may not work for everyone. But I encourage you to treat yourself with love, so that your heart is full when you treat others. I find that neglecting myself does not pay off. I am not saying to stock up on chocolates and sit on the couch all day, or spend all the household monies on frivolities. But make sure your NEEDS ARE MET. Make sure you are healthy and strong, physically, emotionally and spiritually. And if something is seriously not making you happy, pray for a solution, ask your husband for advice, and go for it.
And one last note.
As the queen of your home, you are like a bright shining star in its heart. It is your love, your faithfulness, and your care that hold your home together. Do not fear that responsibility. REJOICE that the Lord has given you a job NO ONE ELSE CAN DO!