I am always astounded as I consider the creation of the Universe. And I am always astounded when I study the word of the creator of that Universe.
I believe the Bible to be TRUE.
I believe the Bible to be LITERAL.
I believe the Bible to be VITAL.
As I considered my many choices of homeschool curriculum, teaching styles, getting overwhelmed and buried by the multitude of opinions, materials and costs, a question kept coming up in my mind.
"What is MOST important?"
I realize now, that this must have been God speaking to me. Whenever I have questions and there is an answer or a clear direction that gets pointed to again and again and again... this is God directing me.
I knew the answer. For me and my family, it is the Lord.
Joshua 24:15 - "And if it seems evil to you to serve the Lord, choose for yourselves this day whom you will serve, whether the gods which your fathers served that were on the other side of the River, or the gods of the Amorites, in whose land you dwell. But as for me and my house, we will serve the Lord."
How does one CENTER their homeschool, their day, their very LIFE on God?
Once you get in there, you find out a whole multitude of truths, directions, and most importantly, clear and decisive steps to take to be 'tight' with God.
Scriptures are good for me!
2 Timothy 3:16-17 - All Scripture is given by inspiration of God, and is profitable for doctrine, for reproof, for correction, for instruction in righteousness, that the man of God may be complete, thoroughly equipped for every good work.
Scriptures are good for my children!
Deuteronomy 6:6-9 - "And these words which I command you today shall be in your heart. You shall teach them diligently to your children, and shall talk of them when you sit in your house, when you walk by the way, when you lie down, and when you rise up. You shall bind them as a sign on your hand, and they shall be as frontlets between your eyes. You shall write them on the doorposts of your house and on your gates."
We also read that Kings were required to write their own copy of the Torah.
Deuteronomy 17:18 - "Also it shall be, when he sits on the throne of his kingdom, that he shall write for himself a copy of this law in a book, from the one before the priests, the Levites."
So.... that is what I have decided to follow in my home and particularly in the teaching of my children.
Right now my children are very young. So I sit every day and I read the word to them. I read it over and over and over and over to them. I read it until they know the story by heart. I read it until when my son tells it back to me, much of it is word for word.
Deuteronomy 17:19 - And it shall be with him, and he shall read it all the days of his life, that he may learn to fear the Lord his God and be careful to observe all the words of this law and these statutes,
Deuteronomy 32:47 - For it is not a futile thing for you, because it is your life, and by this word you shall prolong your days in the land which you cross over the Jordan to possess."
Psalm 119:50 - This is my comfort in my affliction, For Your word has given me life.
John 5:24 - "Most assuredly, I say to you, he who hears My word and believes in Him who sent Me has everlasting life, and shall not come into judgment, but has passed from death into life."
John 6:63 - It is the Spirit who gives life; the flesh profits nothing. The words that I speak to you are spirit, and they are life.
John 6:68 - But Simon Peter answered Him, "Lord, to whom shall we go? You have the words of eternal life."
Philippians 2:16 - holding fast the word of life, so that I may rejoice in the day of Christ that I have not run in vain or labored in vain.
1 John 1:1 - That which was from the beginning, which we have heard, which we have seen with our eyes, which we have looked upon, and our hands have handled, concerning the Word of life—
John 1:1-3 - In the beginning was the Word, and the Word was with God, and the Word was God. He was in the beginning with God. All things were made through Him, and without Him nothing was made that was made.
Proverbs 8:30-31 - Then I was beside Him as a master craftsman; And I was daily His delight, Rejoicing always before Him, Rejoicing in His inhabited world, And my delight was with the sons of men.
Colossians 1:16 - For by Him all things were created that are in heaven and that are on earth, visible and invisible, whether thrones or dominions or principalities or powers. All things were created through Him and for Him.
And all of this Universe was created FOR, BY, and THROUGH Jesus Christ, because he DELIGHTED in us.
Genesis 1:26 - Then God said, "Let Us make man in Our image, according to Our likeness; let them have dominion over the fish of the sea, over the birds of the air, and over the cattle, over all[a] the earth and over every creeping thing that creeps on the earth."
But I can find encouragement in the word also, as I face my duty.
Philippians 4:13 - I can do all things through Christ who strengthens me.
I believe the the Bible to be true, literal and vital. I invite you to find out more with me as I continue this journey.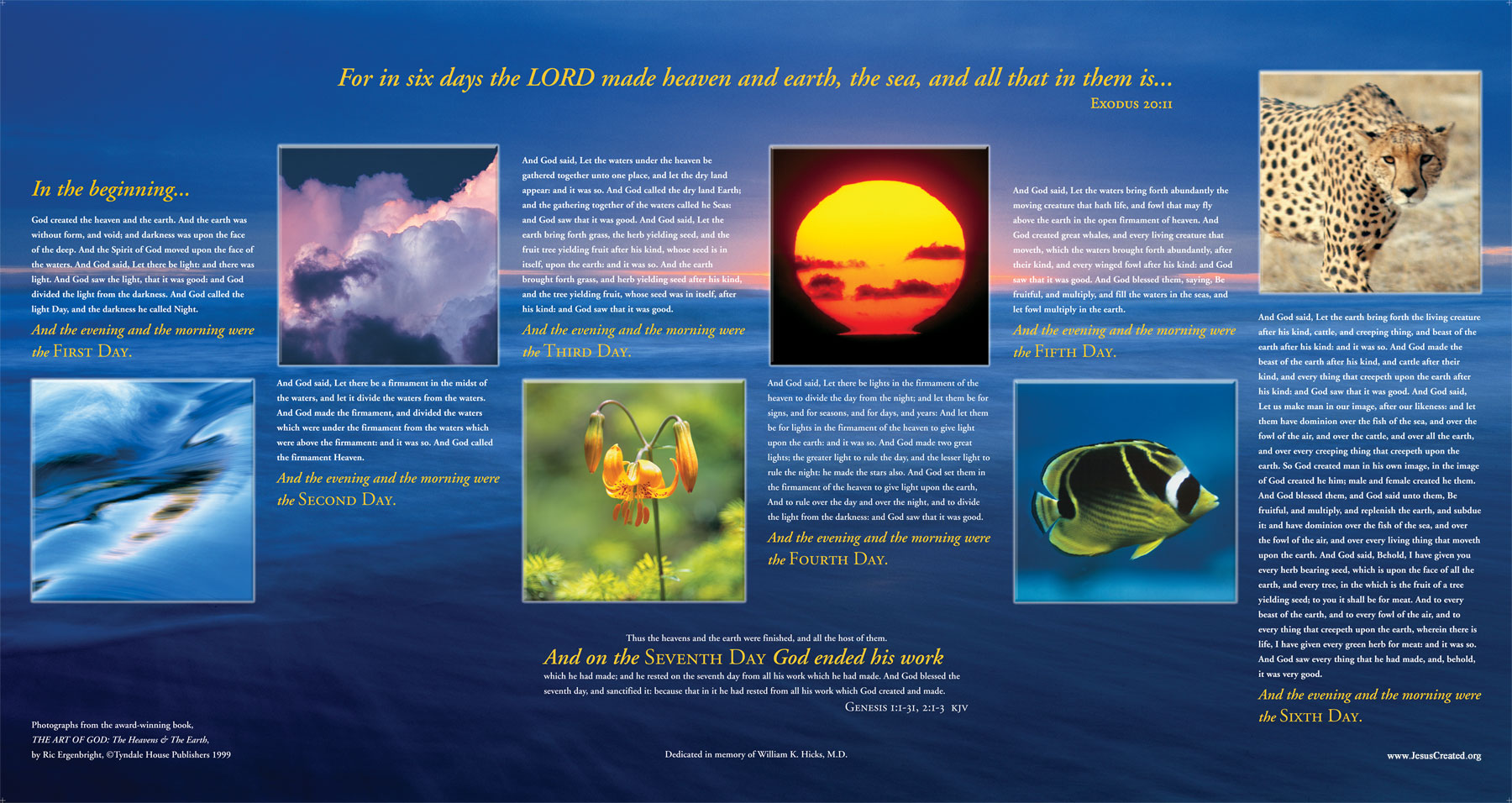 ***
Liked this rain soaked ranting from La Soñador? Check out these similar posts.....